Yoruba Bronze of a hunter, South West Nigeria, positioned on a rectangular base with a chiselled border, flattened feet, legs bent, the elongated torso wearing Yoruba a hunting costume, a gazelle on the shoulders, a large head with prominent eyes, a cup-shaped cap on the head, a leopard to the left of the hunter's foot; greenish oxidised patina.
Related exemplare: A Benin-hunter from the 1897 expedition by Lt. Stuart Wilmot Nicholson (Later Adml. Nicholson, O.B.E. Probably 17th-18th cent. work from IGBIRRA or IGALA, IDAH region on Niger c. 90 miles N-E of Benin.
According to the UNESCO Convention of 1970, a claim for repatriation expires one year after the authorities of a country of origin have learned where and with whom a cultural object is located. Wolfgang Jaenicke Gallery therefore always informs about every newly imported object. Especially about the bronzes from Nigeria shown on this page, which are published in the internet and are accessible to everyone. Organizations dealing with restitution issues, but also freelance art historians employed by the state, such as restitution experts like Benedicte Savoy, are regularly informed about objects in the Galerie Wolfgang Jaenicke.
Every buyer of an art object, regardless whether it is made of wood, terra-cotta or bronze, must be aware that from a European legal perspective, traditional African art usually came from the respective African country of origin with insufficient export documents. Galerie Wolfgang Jaenicke, Berlin, tries to do justice to this dilemma by acting with the greatest possible transparency. The export policy of African states is problematic for art historical research, since African and European dealers usually work covertly due to diffuse legal situations and important information that was passed on from trade to science before 1970 tends to be lost.
In case of uncertainties, please contact the managing director of Jaenicke-Njoya GmbH, Wolfgang Jaenicke. It is in the interest of the gallery to clarify any questionable situation with all available means.
TL-Analysis Kotalla 300 years +/- 20 percent

More info on request
Height: 64 cm
Weight: 16,8 kg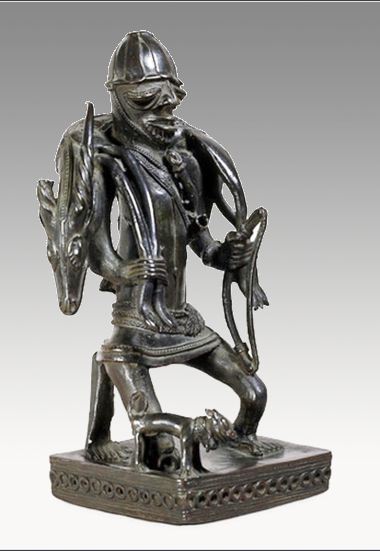 A Benin-hunter from the 1897 expedition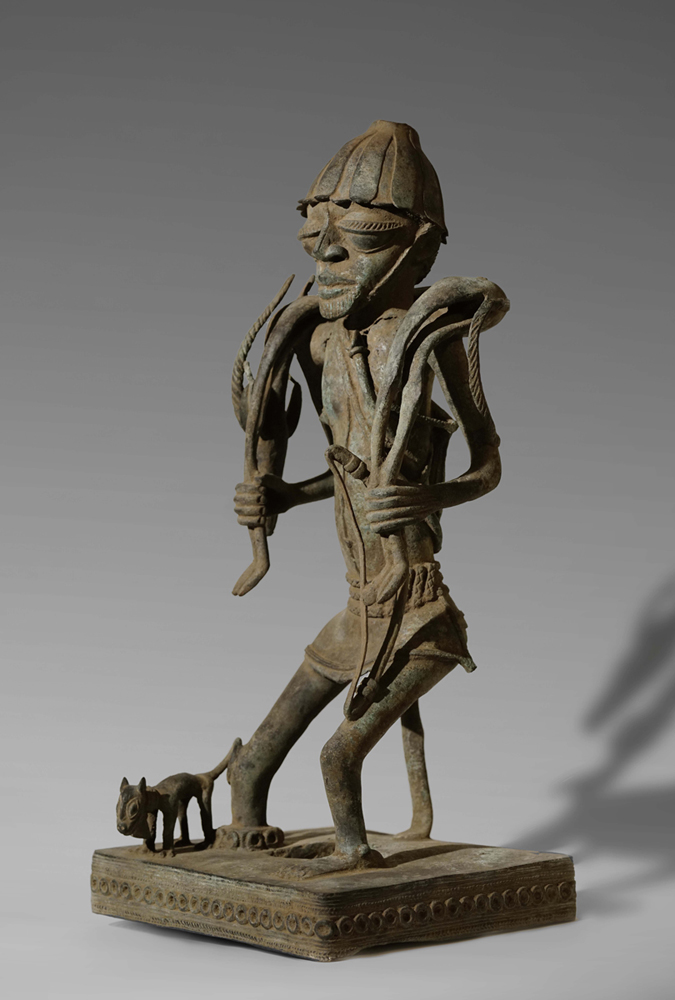 photo: tribalartforum.com/ identification no.