An Ife couple of unknown age, related exemplare, "Ife", Frank Willet, 1957, page 37, plate 10, with a fragmentary, similar exemplare, which was found in Ita Yemoo, 1957, backside, page 75, plate III, text on site 72, on the right arm von the female sculpturte is an unprofessional repair, which was done obviously later. If this repair is recent a technincal analysis according of the TL analysis will indicate, that this sculpture is recent, because the sculpture was heated to a temperature during the restoring process, in which a technical analysis verifies a "recent" sculpture.In contrast to the Ita Yemoo sculpture described by Willet, the cast wall of this bronze is relatively thick. How this is to be assessed in view of the age of both sculptures to be compared, eludes me - as a layman - of any knowledge.
"The question of fundamental dating - still one of the main questions of Benin research - Wolf approaches, however, always very carefully and with respect. He makes it clear that must remain open, whether his cognition actually" solid clues to the individual by no means completed dating of the Bronzes. "Sylvia Dolz, Treasures of Africa / Benin, the donation Baessler, Museum of Ethnology Dresden, 2006, page 13.
The cited Siegfried Wolf was a scientist and ethnologist, Sylvia Dolz argues according of this point of view that neither a natural sciences (especially TL and metallurgical analysis) nor an art-historical / stylistic method alone lead to useful results in terms of age determination. Only a combination of several reviews can lead to useful results. For us as scientific laymen, it is not possible to make relevant, extremely complex analyzes, so we can not give any information on the age and associated possible restitution claims. We have bought this item as a 20th century copy, we imported the sculpture with legal export licences, and we will resell it as well: a good copy.
TL Analysis 600 years + / - 16 % by Kotalla
The currently most popular French/German Art historian, Bénédicte Savoy, Paris / Berlin, see SPIEGEL ONLINE, die Retterin der Kunstgeschichte, who was not only intensively involved with "Restitution-Questions" within the framework of the Humboldt Forum, was informed about this offer. We hope to contribute in this way with the greatest possible transparency a helpful input to the not unproblematic liaison between art trade and science.
Es bleibt was auf der Strecke, Two video clips to the Restitution-Topic.
more info on request
sold
Height: 54 cm
Weight: 13,5 kg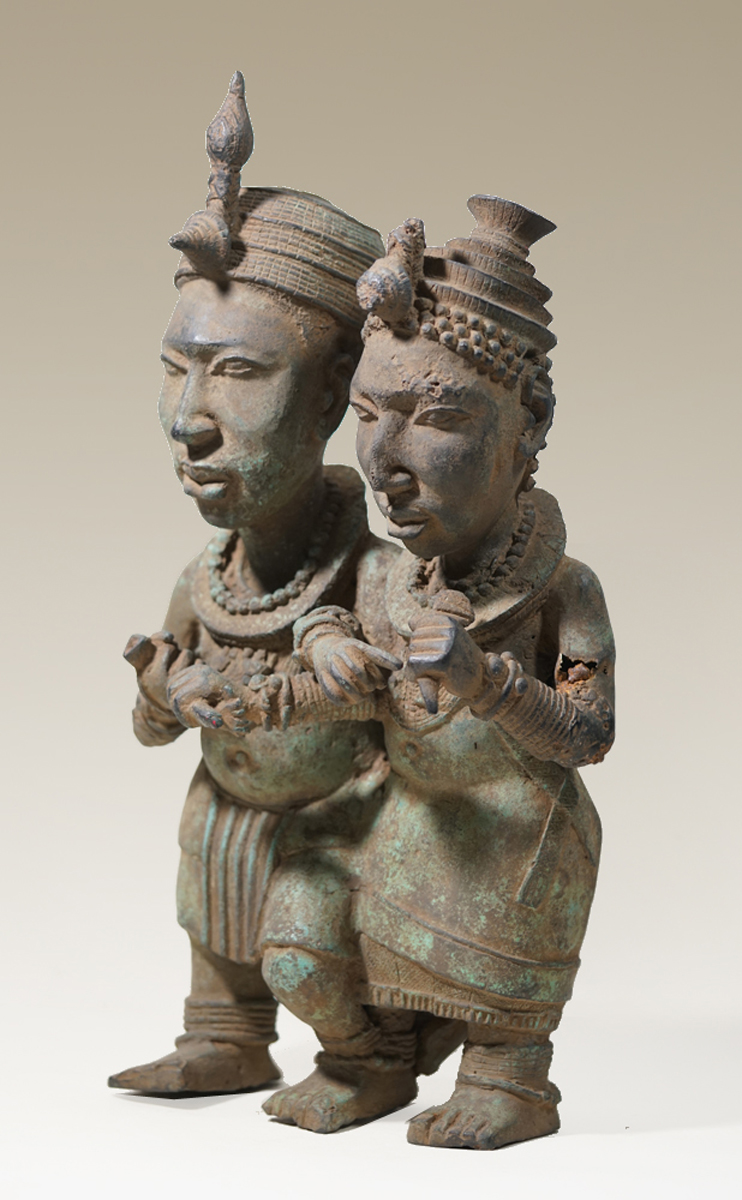 photo: tribalartforum.com/ identification no. DSC02143.jpg